Sunday, December 2, 2012
I've been checking out a ton of craft related blogs lately (I seem to spend more time trying to be inspired than I actually do any crafting lol) Anyhoo I found this wonderful blog "I Love My Home" and was looking at all the wonderful ideas and pictures when I saw the photo of the antique corset she had found. Now I am pretty sure I will never find such an item in my small town or within my budget I downloaded the photo to look at when I need some extra inspiration. I had also just finished making a "Vintage Lace Frame" for my bedroom. I have been re-doing my bedroom in a shabby vintage style. So, I decided to print out the photo and place it in my frame to see how it looked. (Beautiful!!) To make a long story short, I sent an email to Kerry asking her if it was okay to use it in my frame (personal use only of course) and she was so lovely to say yes and that I could post a picture of my frame with the photo in it on my blog. THANK YOU Kerry! :)
So here is the frame and photo.
Here is the link to her fantastic blog and the photo that inspired me so much :)
I Love My Home: My latest find.....
: ...I walked into one of my favourite antique shops this weekend and the first thing I saw was...ta dah!... this fabulous antique corset. ...
Posted by

Guiltypleasures
at 1:58 PM
1 comment:


Thursday, November 29, 2012
I really hate it when I have things to post on here but don't have the time to get it done. I've been fighting with a backed up kitchen sink that is also leaking all over my kitchen floor for a week now. Thank goodness my landlord at least has it unplugged, and I hope he gets the leak fixed soon. All hasn't been too bad though, I have managed to get some Christmas crafts done and will post them as soon as I'm able. Until then, happy blogging and goodnight my friends :)
Posted by

Guiltypleasures
at 7:21 PM
No comments:


Friday, November 9, 2012
It's been raining cats and dogs all day long, I think I'm in need of a nice hot cup of coco. Here's a mug to put you in the spirit of the holidays that are drawing near. Goodnight and Happy Blogs!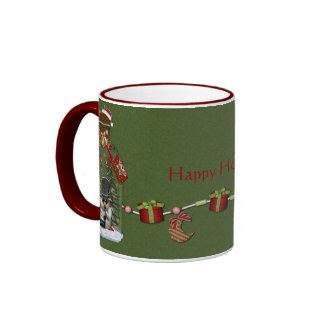 Snow Man Jar Holiday Mug
by
Guiltypleasures
Browse other
Snow Mugs
Posted by

Guiltypleasures
at 7:59 PM
No comments:


I have two of these lamps I bought for 5 bucks at a thrift store a year or so ago, thinking someday I would do something with them. Well last night I got into a crafty mood and with shade in tow I proceeded to get the mod podge and some tissue paper. Here is a before shot of one of them.
Now here is the after results to the shade. Still haven't decided if I will paint the base of the lamps or leave them blue. Suggestions? :)
There were a few wrinkles here and there but I think that just adds to the vintage look I was after. My supplies were two old lampshades Mod Podge Sponge brush Package of tissue paper (dollar tree - 2pks) some gold glitter paint Now to find more things to mod podge! :)
Posted by

Guiltypleasures
at 7:49 PM
1 comment: